Arthur Chung, Chief Executive Officer, CMA, CPHR, CFE
Arthur joined the BCCA Employee Benefit Trust in October 2009 as Vice President of Operations and, more recently, stepped in as Chief Executive Officer in 2016. With over 25 years of experience in the employee group and individual healthcare benefits industry in numerous senior positions, he is focused and passionate about looking after the Trust's membership.
Before joining the Trust he served as a designated Chartered Professional Accountant, Chartered Professional in Human Resources and a Certified Fraud Examiner.
When he's not keeping busy with his work at the Trust, he enjoys spending time with his wife cheering on their three boys on the soccer pitch and in the swimming pool.
Colleen C.F. Cadez, CPHR, Vice President
Colleen has provided our clients with exceptional customer service and attention since 2011. She graduated from Simon Fraser University with a Bachelors in Political Science and a minor in History; and through networking, she found herself immersed in the world of insurance. She eventually came to the Trust and felt she was a perfect fit since the atmosphere reflected her own personality – supportive, helpful, and friendly.
Armed with a positive attitude and welcoming personality, Colleen is here to help if you want a change in your plan or need suggestions on how you can tailor your plan to fit the needs of your employees. And she can do it in Portuguese too!
Colleen's "sunshines" in life include her family and friends – anything that her children do will make her smile and glow with pride. In her spare time, she also enjoys baking pastries and treats for her boys and daughter.
David Main, Director of Finance & Administration
We would describe our number cruncher, David Main, as a 'strong, silent type'. You never know what he might be thinking! David looks and acts exactly how you would picture an accountant would be – all serious and analytical with an extra sharp pencil in his pocket 'just in case'. But then every once in a while, he comes out with some very insightful and often-funny one-liners that are so unexpected, you fall off your chair!
Like many strong and silent types that you may know, he holds great influence with those around him. For example, since he comes into the office only a few days a week, he has somehow managed to change the day Patricia brings in her homemade banana bread to a day when he is sure to be around.
It's hard to know what he does for fun, because he's sticking to his 'accountant' cover on this question. However, he has been seen riding his bike to work in the summer, so perhaps there's more to David than he lets on.
Tracy Lam, Senior Client Services Associate
Since Tracy joined the Trust in September 2010, she has become one of the best customer service representatives in the insurance industry.
Starting her career as a dental receptionist doing data entry for dental claims, she decided to pursue extensive training of adjudicating dental and extended health claims. From there, she found her way into the insurance industry working on resolving claim issues and dealing with inquiries about benefits eligibility. She even has experience in training new team members on claims adjudication.
Now, with over 20 years of experience and knowledge under her belt, Tracy provides innovative thinking, dedication, and delivers the best customer experience for our clients. She understands our clients and enjoys working with them to keep systems up-to-date, answer questions, and help solve problems.
Outside of the office, Tracy enjoys the comfort of her big extended family. When she is not watching chick flicks, you can find her watching TV shows and movies with her two children and husband.
Joanna Chui, Practice Leader, Operations
Joanna joined the Trust in July 2010 as the Team Lead of Operations.
Joanna began her employee benefits career in a national pension and benefits consulting firm in 2001. Well versed in various areas of operations from day-to-day administration, client service and consulting, quote and renewal production, process/procedure setting, strategic business planning, her experience led her to a role where she led a multi-function team consisting of underwriting, finance and communications.
Prior to working in employee benefits, Joanna spent three years quantifying the economic damages when wages or profits were interrupted by the negligence of others. This involved preparing economic reports for lawyers or insurers for use in court. These included calculating non-pecuniary losses such as the loss of income, loss of dependency, loss of housekeeping capacity and out-of-pocket cost when somebody is disabled.
Joanna's strengths lay in her comprehensive approach, in her relationship building skills, and in her operational infrastructure development/implementation. A dynamic and motivated leader, Joanna brings a diverse and comprehensive range of benefits administration knowledge to the BCCA Employee Benefits.
Outside of work, Joanna enjoys spending time with her loved ones. She claims her daughter is the cutest person in her world.
Jane Gallagher, Executive Assistant
Jane is our Executive Assistant, providing support to our CEO and Board of Trustees. She joined the BCCA Benefit Trust team in September 2015.
Jane is the Aussie of the office, continuously confusing the staff using Australian slang or "Aussie-isms" as she calls it. Jane's work experience spans between her life back in Australia and here in Canada. She has worked as an Executive Assistant for a number of years and has top notch organization skills that have been put to good use here at BCCA Employee Benefit Trust. In her role, Jane provides full executive support to the CEO and Board of Trustees. She has created policy handbooks for the office to help keep everyone on track, inspiring other departments to do the same.
Outside of work Jane has a number of hobbies. She likes to stay active and enjoys snow skiing, bike riding and kick-boxing. She is also well traveled and believes the education and life experience gained from travelling is simply amazing. She is consistently inspired by learning and education and feels a glow of pride when she achieves a goal she has set for herself.
Nina Marcinkow, CEBS, Client Services Manager
Nina joined the Trust to work with members directly and to be a resource for employers and their employees. She started her benefits career in the client centre with one of our partner organizations and has continued to learn and develop her expertise through exposure to other departments, projects and organizations. She is always looking for a challenge and is an advocate for the team and our members.
Continuing her education is extremely important to her and she has completed the ​Life Licence Qualification Program (LLQP), Group Benefits Associate (GBA) designation, Retirement Plans Associate (RPA) designation, and obtained her full CEBS.
Outside of the office, you might find Nina camping, mountain biking, baking and spending time with her family. She grew up in 100 Mile House, but was born in Switzerland and speaks fluent Swiss German.
Laura Bonney, Consultant
With the help of her mother, Laura found herself working part-time in insurance during high school in Winnipeg. After graduation, she began working full-time and moved to Vancouver in 2009, where she continued to work in the industry. After several years working with several department teams and with clients she earned a Certified Employee Benefit Specialist (CEBS) Primer and a Fellow and a Life Management Institute (FLMI) Level 1 Certificate. Now she uses her experience, knowledge and passion of helping people to the Trust.
A caring individual, Laura fits the insurance world perfectly. If she could change anything about the world, it would be that everyone has access to the opportunities and lifestyle that we're fortunate to have in Canada. Laura is driven by kind, genuine people around the world.
Laura loves the hiking and road trip opportunities available in beautiful British Columbia (always accompanied by her puppy, Charley). If she is not outside, Laura will be found binge watching crime shows on Netflix.
Aly Rehmat, Associate Consultant, Bsc. MHA. CTFL
Aly joined the Trust in 2017 as a Client Consulting and Development Associate. He was drawn to the idea of employee benefits because his parents worked in insurance and because he saw it as a way of helping people with their health, which matches his educational background. He is inspired knowing that he can make a difference for many individuals on a daily basis.
He is a graduate of UBC, where he completed a Master's Degree in Health Administration. Currently, he lives in Coquitlam with the love of his life and his beautiful son and daughter. When Aly's not keeping busy with his family, you can find him volunteering within the Ismaili community, cheering at a Seahawks game in Seattle, or laying on a beach in Hawaii (at least once a year).
Ashley Williams, Group Administration Associate
Ashley joined the Trust in the Spring of 2019 as the Group Administration Associate where she helps our members get acquainted with their new benefit plan.
She has been helping people for most of her life, from working at her mom's costume shop, teaching at a dance studio, and helping at a fitness center. She has learned a lot of soft skills such as patience, organization, responsibility and accountability, from her previous jobs and credits those skills for helping her make the leap into the insurance world.
When she's not hard at work she enjoys hiking, crocheting, reading, spending time with friends and avoiding spiders! She also loves watching all things sci-fi, fantasy and Disney, listening to classics from the 50's, and ending her day with a long hot shower. Her favourite vacation memory was experiencing Beijing, standing on the Great Wall during a thunderstorm.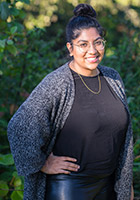 Hardeep Sidhu, Marketing & Communications 
Hardeep joined as the Marketing & Communications Coordinator in September 2019.
Prior to BCCAEBT, she was a research analyst at CTRS Solutions Ltd. and co-founder & marketing coordinator at Oranami Digital Marketing. During her time at CTRS Solutions Ltd., she worked on a variety of projects gathering data that helped companies make informed business decisions.
She is a graduate of KPU, where she majored in Marketing Management with a minor in Psychology. She currently volunteers in the IMAGElab, where she is working with Dr. Arleigh Reichl on a study about the impact of sexist ads. When she's not keeping busy with work and volunteerism, you can find her doing something active or planning her next adventure!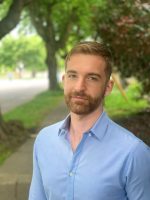 Taylor Mitchell, Senior Client Services Associate
Taylor is an Ontario transplant who started his insurance career in Waterloo assisting clients with their group benefit inquiries. Taylor has worn many hats since then working in administration, quality assurance, and employer relations. He enjoys assisting members navigating the benefits world and providing tips on how their benefits plan can meet their needs.
Outside of the office you can find him in a coffee shop studying for his CPHR designation, biking the Seawall or visiting a local brewery.
If you have a hike recommendation, send it his way!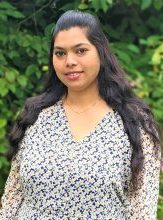 Peagle Mathew, Client Consulting & Development Coordinator

Peagle joined the BCCA EBT as Client Consulting & Development Coordinator in the Spring of 2021. In this role, she assists the team with quotes and plan design amendments.
Prior to joining the benefits industry, she assisted clients by working on diverse projects and supporting teams across regions and countries in the banking and finance industry. She worked in the event planning and marketing team for three years with a major bank in London. Her path crossed the insurance industry when she moved to Canada two years ago and joined a brokerage consulting firm in the capacity of Benefits coordinator. She has learnt a lot about the benefits industry and continues to enhance herself with new adventures that come across.
Peagle loves travelling, reading, learning about different cultures, and spending time with loved ones. She also enjoys binge watching a variety of shows and dramas on Netflix, and going for walks by the river.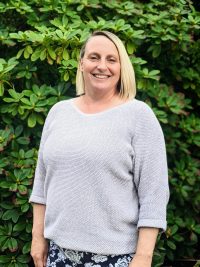 Shellie Borden, Client Services Associate

Shellie joined our Client Services team in August 2021. Her experience in the insurance industry began in 2016 after many years as a Certified Dental Assistant, a Lifeguard and Swim Instructor, and an Education Assistant. She is always excited for a new challenge and enjoys assisting others to realize the most positive experience possible.
Shellie's favourite ocean destination is Hornby Island, BC where she has been visiting since the late 1970s. When at home, you will either find her lounging on the couch or enjoying the local river trails with her family and Bernedoodle, Juno.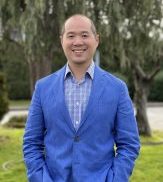 Stephen Dang, Director of Business Development & Partnerships

Stephen has devoted 17 years to the insurance industry, serving in various positions before joining the BCCA EBT. Prior to entering the insurance industry, Stephen was a Kinesiologist, helping people recover from injuries and return to their daily lives. Today he lives his passion for helping people recover through encouraging health and wellness.
Two of his personal mantras are "treat others as you would like to be treated" and "do what is right even when it is difficult". These mantras guide everything he does and reflect the values of the BCCA EBT.
Born and raised in the lower mainland, Stephen truly enjoys all that BC has to offer from spending time outdoors to the tradition of never being happy about the weather.